Physio Care, Indirapuram (Shakti Khand II, Shipra Suncity, Rajhans Plaza opp. Aditya Mall)

98117 68474
Physio Care – Best Physiotherapy & Dry Needling Clinic in Indirapuram, Vaishali, Vasundhara, Noida
Clinics are open daily for limited time. Call for timings and appointments before coming.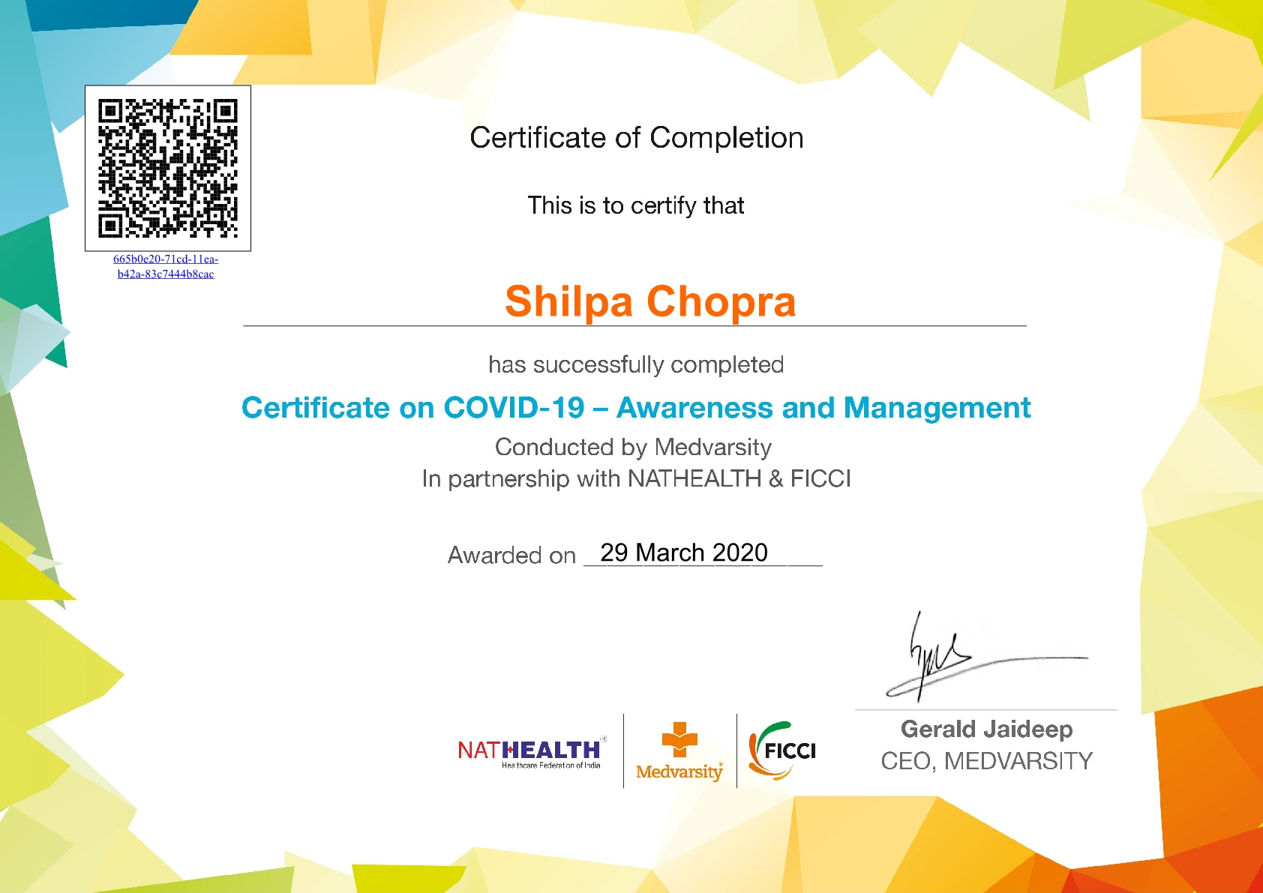 Don't ignore the mild pain till it becomes a complex issue. Eat to live, not live to eat. Today lifestyle is the major concern and ignorance of lifestyle related diseases can become a complex issue in future.
Its very important in today's machine world to get proper ergnomics and training related to your postures. Physio Care is offering one additional sitting with two week or longer packages to restore movement and normal body function in cases of illness, injury and disability.
Physical Therapy for Orthopaedic, Neurological, Cardiovascular, Geriatric, Sports, Obstetrics, Gynaecology and Paediatric issues and for the treatment of Lymphedema in case of Breast Cancer surgeries and any Gynaecological surgeries is available under the guidance of Head Doctor Ms. Shilpa.
Physio Care clinics are in Shakti Khand II, Rajhans Plaza, Shipra Suncity and Makanpur (Spuddy Badminton Center) in Indirapuram, Ghaziabad which is nearby Noida and Delhi Area.
Call for Details
Great physiotherapy clinic.
Very good physiotherapy.
Physiotherapy treatments helped in healing.
Physiotherapists are good.
Good physiotherapy equipment and facility.
Very knowledgeable physiotherapy doctors.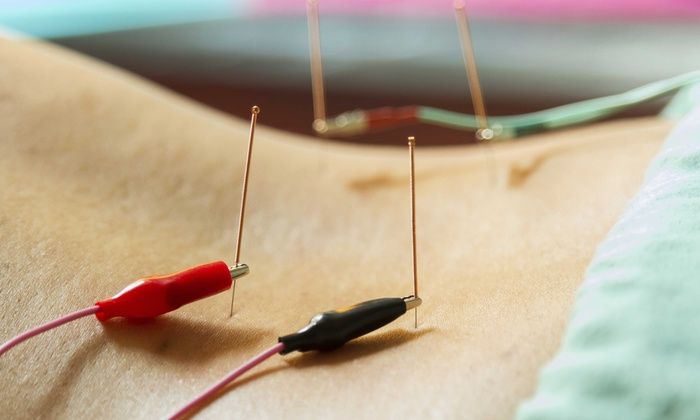 Dry Needling
Evidence-based Scientific Method
Dry needling is a modern treatment designed to ease muscular pain. Doctor basically needles in your muscle or tissue. Dry needling is also called as intramuscular stimulation. The needle basically receives the knot and relives the muscle pain or spasm. The needles will remain Iin your skin for a shorter period of time. Easing the trigger point may improve flexibility and increase range of motion.
NOTE. Dry Needling is an evidence-based scientific method and it is NOT accupuncture which is a Chinese method based on Qi energy.
Laser Therapy
Scientifically Designed & Well Made
Low-Level laser Therapy works on the principle of inducing a biological response through energy transfer in that the photonic energy delivered into the tissue by the laser modulates the biological processes within the tissue. So, it also called photobiomodulation.
Applications: Wound Healing, Pain Management, Cosmetic Regeneration, Soft Tissue Injury Treatment, Skin Treatment, Diabetic Wound Healing, Dental, Hair Fall Control, Pressure Sores in bed-ridden patients, Leg Ulcer, Acne, Superficial AP Stimulation and Tonification, Acute and Chronic Pain, Non Union, Small Bone, Burns, Carpal Tunnel, Plantar Fasciitis, Frozen Shoulder, Brachial Neuralgia, Osteoarthritis, Rheumatoid Arthiritis, Ligament and Tendon Injuries and others.
Ultrasound Therapy
Scientifically Designed & Well Made
Ultrasound Therapy is used to treat human tissue. It is a form of an acoustic vibration propagated in the form of longitudinal compression waves at frequencies is too high to be heard by the human ear.
Applications: Bursitis, Tendonitis, Muscle Strains and Tears, Frozen Shoulder, Sprains and Ligament Injuries, Joint Contracture or Tightness and others.
IFT Therapy
Scientifically Designed & Well Made
IFT is used for symptomatic relief and management of chronic (long-term) intractable, post traumatic and post surgical pain. IFT is used for its drug free, non-invasive promotion of healing and pain relief.
Applications: Back, Neck, Shoulder and Knee injuries or problems, Fibromyalgia, Joint injuries, Overuse injuries and surgical procedures, Edema, Inflammation, Carpal Tunnel Syndrome, Tennis Elbow, Sports Injuries and others.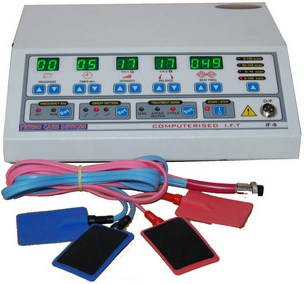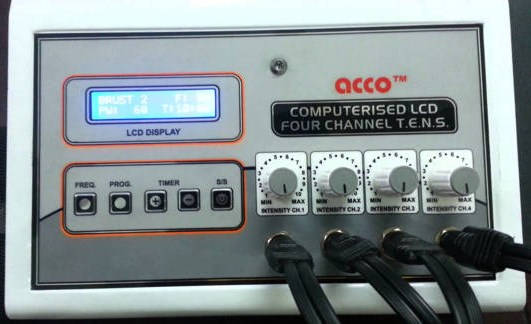 TENS Therapy
Scientifically Designed & Well Made
TENS is used in physiotherapy to treat pain, inflammation, muscle spasms, weakness, and other neuromuscular disorders.
Applications: Most often to treat muscle, joint, or bone problems that occur with illnesses such as osteoarthritis or fibromyalgia, or for conditions such as low back pain, neck pain, tendinitis, or bursitis, sudden (acute) pain such as labor pain and long-lasting (chronic) pain such as cancer pain.
Diathermy Therapy
Scientifically Designed & Well Made
Diathermy is a therapeutic treatment most commonly prescribed for muscle and joint conditions. It uses a high-frequency electric current to stimulate heat generation within body tissues.
Applications: Sprains, Strains, Bursitis, Tenosynovitis, Tendonitis, Musculoskeletal Muscle Spasms, Joint Contractures or Adhesions, Neuromas, Neuralgia, Aarthritis, Fibromyalgia, Back Pain and others.
Exercise Equipment
Scientifically Designed & Well Made
A wide range of exercise equipment like Traction Table, Quadriceps Table, Shoulder Wheel, Shoulder Pulley, Shoulder Abduction, Supinator Pronator, Wrist Roller, Grip Exerciser, Arm Chest Exerciser, Ankle Exerciser, Heel Exerciser, Static Cycle, Parallel Bar , Medicine Ball, Physio Ball, Cuff Weights, Dumbells, Resistive Exercise Band and others.
Your information was successfully submitted.